Roofing Company Marketing Solutions
SMARTER WEB DESIGN |  LEAD GENERATION  |  SEO + CONTENT PROMOTION
Roofing Websites And Marketing.

Solace Roofing Solutions – Port St Lucie, Fl
Solace Roofing is a residential roofing contractor on Florida's gorgeous treasure coast. David, first came to us with plans for launching a brand new roofing company and needed a digital marketing company for roofers that have had industry experience and know how to get results. With over 20 years of personal experience in the industry, his vision was to design a beautiful website that would be the beginning of his online efforts. From there he would expand into other areas of digital marketing but didn't know how or want to do it himself. His focus would be on growing the company and creating a legacy. We told David no worries and started sleuthing out the local roofing competition gaining insights on how we would attack the online opportunities with a complimentary audit. Discovering some good numbers we decided to move forward in partnering with David.
Roofing Website
We have just recently launched the new roofing website for Solace Roofing and it has gone above and beyond expectations in terms of design and functionality. meeting all the following requirements:
100% Mobile Responsive
100% Customized and Branded
Singularly focused on collecting leads
Properly optimized for ongoing SEO efforts
Easy to navigate for users
Ad-ready offer funnels and landing pages
Automated forms, chat widget, and click-to-call
Robust back-End CRM for business management
Personalized follow-up system for leads
Less than 3s load times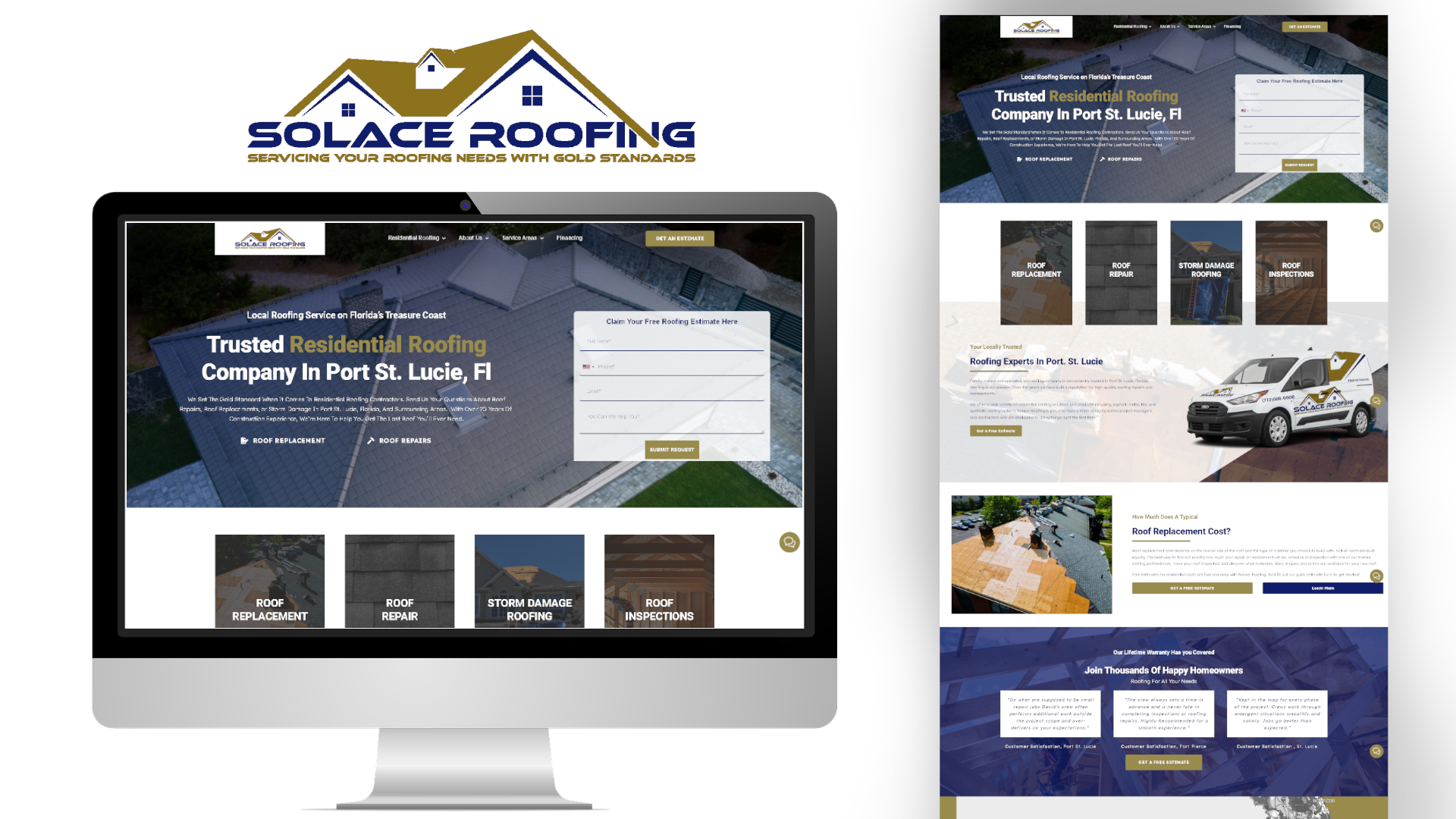 Local Listing Management
In order to launch Solace Roofing properly and gain as much tracking with local sources, they have allowed us to manage their roofing company's local listings. In less than a week we were able to get the company listed on over 75+ high authority listing sites with a DA of 70+. This includes platforms like Google Business Profile, Yelp, Angi's List, HomeAdvisor, Facebook, FourSquare, Thumbtack, and much more! Having the proper business information on these organic search sites will help Solace Roofing get to the top of results faster and may result in some good organic lead generation over time!
Google Ads / Google Guaranteed
In order to drive SEO ranking and generate leads right away as a new roofing company, we helped Solace Roofing get verified as a legitimate roofing business and have begun advertising efforts to drive results. These ads were shown to over 1,200,000 people and yielded over $750,000 in new revenue.
SEO For Roofers
Along with our other strategies for marketing a roofing company we wanted to capitalize on building strong SEO(Search Engine Optimization) tactics from the start. Each month we are adding new roofing keywords, optimizing content, releasing roofing blogs, and acquiring more quality backlinks from roofing websites and other roofing industry sources to boost rankings. In 6 months we went from absolutely no web presence at all to ranking first page for 3 keywords and creating a website domain authority of 12 and climbing.
Roofing Vehicle Wrap
In order to assist in the launch of this amazing brand we also designed a vehicle wrap to match the website and logo branding for the company. The goal was to keep it clean, simple, but eye-catching! We think it turned out pretty awesome.
If you are looking for a roofing marketing agency that not only knows the tech but knows what roofers are really looking for, we can assist with that.