All-In-One Marketing & Sales Software For Small Business
Organize your entire business operations in one easy-to-use CRM software. Generate more leads, automate email/SMS follow-ups and bookings, manage your contacts, send invoices and so much more.
100% Risk-Free. Cancel At Anytime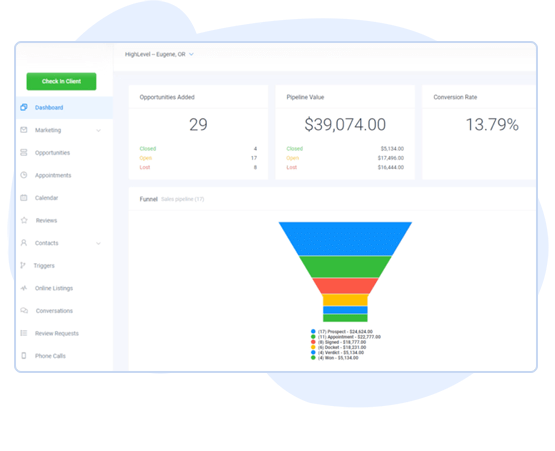 ARE LOOKING FOR MORE QUALIFIED LEADS?

With NeuLevel you'll have all the tools and strategies professional digital marketers use to generate revenue online.

ARE YOU LOOKING TO CREATE MORE REVENUE?

With our all-in-one marketing & sales platform, you can finally ditch third-party applications (saving hundreds) and streamline your sales so you can focus on customer retention and repeat sales.

LOOKING TO SCALE YOUR SMALL BUSINESS?

NeuLevel allows you to grow your business through our advanced dashboard and analytics so you can grow at scale while closing more deals and getting crystal clear on fixing the gaps within your operations.
Easily Collect New Leads
Websites, Forms & Interactive Surveys
Fully customizable drag-and-drop builder for creating engaging websites, funnels, and landing pages for collecting leads from online sources in a single platform.
Create forms and surveys that directly integrate with your website builder or marketing funnels to collect prospect information with ease.
Use the integrated calendar and appointment scheduler to book qualified leads directly onto your team's calendar without the use of a secondary service. It's truly an all-in-one system!
Convert Leads Into Customers
Follow Up Campaigns, Email/SMS, Voicemail, And Messaging
The true power of NeuLevel is what happens after you collect your leads. Use Multi-channel follow-up campaigns to automate email and SMS follow-ups to get qualified responses from your leads
Connect with your leads through Phone Calls, Voicemail Drops, SMS/MMS, Emails, and even Facebook Messenger automatically. Never miss another follow-up again with this robust ad powerful system.
Nurture your leads into true promoters of your brand with workflow automation and save you and your team time and money.
Automated Appointment Bookings
Fully Integrated Automatic Appointment Booking
Automatically book leads and clients directly into your calendar with very little effort as AI learning technology and workflows move them through your funnel on autopilot.
Say goodbye to paying for third-party scheduling apps and software with NeuLevel's all-in-one platform.
Manage your time and keep sales reps accountable while eliminating the headache of multiple software connections.
Fully Managed Sales Pipeline
Fully Customizable Unlimited Sales Pipelines
Create a customized sales pipeline or multiple pipelines to manage your sales cycles and leads for any service. Our easy drag-and-drop lead management system makes tracking your deals easier and better than ever!
Integrate your sales directly with Stripe so you can invoice and collect payments during any phase of the customer journey. Just connect and send.
Keep track of where your leads are coming from and easily manage individual contact information and documents all in one place.
One CRM…  Hundreds Of Ways To Grow Your Business.
There truly is a simpler way to run your marketing and sales efforts. You can follow up with every lead at scale to maximize sales and minimize downtime. Here's what comes in our monthly CRM subscription.
Invoicing/QuickBooks Integration

PayPal/Stripe Integration
Custom Notifications/Triggers

Pre-Built Campaigns and More…
What Our Partners Have To Say About NeuLevel
9 reviews on
Working with Sam is great - he really listens to you to come up with a tailor-made strategy.
The best of the best when it comes to your local marketing agency. They went the extra mile without me having to ask, exceeded their promised quality, and Sam is the guy to talk to when it comes to marketing. Love NeuWeb. Talk to Sam, he's a great guy
Sam is the most attentive to detail individual I know. He created and designed my companies logo, helped me market and guided me through better advertising for my business. I would highly recommend!
Sam does excellent work. Before we worked with neuweb, we had a very basic webpage and almost no social media interaction. Now we have an incredible website that is generating leads and a very active social network. We are very happy with how easy it is to work with sam and all the options that are available to us. We couldn't be happier with the work that he has done and the services he provides.
Sam from Nueweb marketing is very talented. He built our company's site and we frequently receive compliments on its quality.
Best bang for your buck for websites and marketing you can get. Sam knows what he is doing and gets you results fast. He took me from no web presence to getting leads in through my website and his advertising efforts. Defiantly recommend.